---
YOU KNOW THIS VOICE…
DETROIT METRO TIMES: about Gia Warner …. "an excellent singer/songwriter with a strong, heart-ripping voice and a gift for writing a radio-friendly angsty pop tune." 
DETROIT MUSIC AWARD WINNER
*2021 Outstanding ROCK/POP VOCALIST*
~2019 Outstanding ROCK/POP Vocalist~
~2015 and 2016 Outstanding AMERICANA Vocalist~
Make sure to sign up on my G-List. I don't want you to miss a thing!
Follow me on FACEBOOK,and INSTAGRAM,
I'm excited to be playing a lot of Summer solo shows. 
Make sure you are signed up on my G-List for Email updates.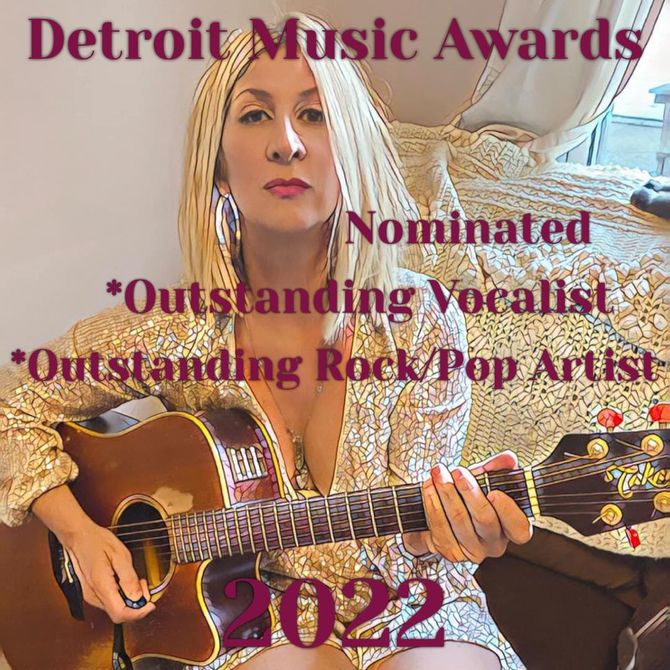 DETROIT MUSIC AWARDS 2022
I'm honored to have made it to the final round in the Detroit Music Awards!
I'm nominated for 2 awards.
*Outstanding Vocalist and
*Outstanding Rock/Pop Artist.
Thank you to all who have voted for me. Good luck to my talented friends up for awards.
It's that time of year again!
Boring ring tone on your phone? Not quite feeling the Christmas spirit? I can help you with both of those things! Download your new Holiday ring tone of my recording of the John Lennon classic "Happy Christmas". For the full song, you can download on itunes or here on my music page. Get them both!
*For the ringer version, follow these directions:
*iphones- Go to the Music Store Ap on your device and search GIA WARNER-Happy Christmas (War is Over) ring tone. Purchase and follow your devices directions to assign the ringer.
*All other smart devices-Download the ring tone from here on my site located in Music. Click on Music, scroll down to Happy Christmas (War is Over) RING TONE, purchase, and follow your phones directions to assign ring tone from your music. 
Enjoy!